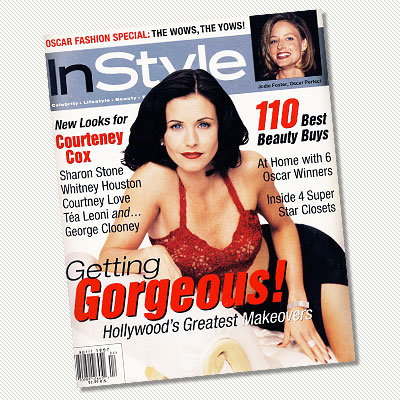 It was the first issue I worked on, with the now infamous "Best Beauty Buys," and it's definitely made a lasting impression when it comes to my knowledge of beauty products.
I remember all the research and calling in hundreds of products for the photo shoot. While most of the items were easy to call in because they were from well-known companies like Maybelline, Neutrogena and Estee Lauder, there were
the ringers
, the products whose parent company we did not know, the items that makeup and hair stylists across the nation used on their clients but weren't readily known or available to the general public. And it was my job to track them down.

I spent much of my time
calling these artists
to find out where they purchased these items.
Because this was all pre-internet and email!
YES, I ACTUALLY HAD TO USE A PHONE AND DO MY RESEARCH! I left messages for
a famous hairstylist here, an uber-makeup artist there
in the hopes they would call me back and tell me a little more about the unknown product and if they had a clue as to where I could get my hands on a bottle, a tube or a tool. Sometimes they would have the product in their hands while they spoke to me and I would ask them to read off the tiny print which listed the manufacturer or city that it was "Made in."
I was quickly given a corporate card and spent a lot of time at beauty supply stores all over NYC. I had my list in hand and searched through the aisles for Mane 'n Tail shampoo, Spornette round brushes, random concealers "to cover up tattoos on set," Terax products, flat irons, hair relaxers, blow dryers, specific hair elastics.
You name it, I had to find it.
I think at the end of the whole process I had 5 things from a list of 250+ that I could not locate.
But I was in hog heaven! I was already a beauty junkie and having a job that required me to play with products (and have access to anything and everything) was a dream-come-true.

Since I was a pre-teen I had been a sucker for the gift-with-purchases

at the Clinique counter and the Estee Lauder makeup caddy gift with any fragrance purchase was always the big ticket holiday item for my mom.
I never worked on a Best Beauty Buys again but I've forever been branded with the knowledge of the quintessential beauty favorites. I remember all the random beauty pro items that made it into the final cut and those that were on the "cutting floor." And I loved that after the shoot I was able to pretty much take anything that I wanted.
I still have my many Mason Pearson brushes (one that is still in the box, never been used!)
, my Denman D3 nylon, my Babyliss crimper/flat iron, my "I can't remember the name" combs and hair dryer. I was introduced to
my once favorite shampoo, Terax Latte
(now unfortunately reformulated and totally different),
Seche Vite top coat nail polish (which I sell at Trocadero)
, Laura Mercier tinted moisturizer, Shu Uemura eyelash curler (though I must admit I like my Shiseido one better), Kiehl's Silk Groom and NARS everything.
Glancing at the Beauty Buys from 2009, it reads like a page out of the TOP TEN BEAUTY ADVERTISERS.
It's disheartening to see that all those special products with "no names" are now replaced by Garnier Fructis, Pantene, L'Oreal and Revlon. Part of the problem is that the major makeup artists now work directly for a cosmetics company and the same goes for many of the hair stylists out there. The other problem with these Best Beauty Buys lists is that the same things are mentioned again and again.
It sure isn't exclusive anymore when 9 out of 10 women can tell you that Shu Uemura has "the best eyelash curler."
Is anyone doing the "TOP OBSCURE BEAUTY ITEMS." I remember when Elnett hairspray and Klorane dry shampoo were hard to find; now I think you can get them at Walgreen's.
It might be 2010, but for now I'm going to stick to my favorite beauty items circa 1997.